Hiawatha's Heaven on Steven's Lake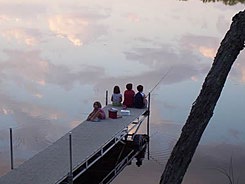 Hiawatha's Heaven is a 1,950 sq.ft., 4 bedroom, 1 bathroom home, with 200′ of lake frontage on Steven's Lake and 5 acres of privacy in the Hiawatha National Forest. Located 24 miles south of Munising, MI and 12 miles north of Nahma Junction on US-2, it makes a perfect location for those looking for easy access to either Lake Michigan or Lake Superior. Adjacent to hundreds of miles of snowmobile, ATV, hiking, and wildlife trails, this home offers the ultimate vacation location from your door to the trails.
This home features a master bedroom that overlooks the lake with a queen bed, the second bedroom has a double bed on the lake side as well, and the third bedroom has a queen and twin bed with a view of the forest. The roomy bathroom has a large shower. This beautiful home will sleep 8 to 10 guests comfortably with linens provided. The open living arrangement offers a full kitchen with a large refrigerator, walk in pantry, stove with oven, microwave, coffee maker, toaster, pots & pans, dishes, utensils, and basic food staples. Washer and dryer. The large dining table with seating for 8 has a panoramic view from the elevated main floor over the entire lake. A newly installed kitchen door ensures quick and direct access to a wrap around deck for additional entertaining, dining, or watching the wildlife. The deck features tables, chairs, gas grill, and bird feeders. You can also walk out onto the lake side of the property from the deck.
Hiawatha's Hideaway Vacation Homes
Hiawatha National Forest – Munising Bay – and near Lake Michigan
Munising, MI 49895
(800) 982-1633
[gmap name='hiawathas' lat='46.082653′ lng='-86.578220′ zoom='8′ desc='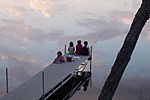 Hiawatha's Heaven
Hiawatha's Hideaway Vacation Homes
Hiawatha National Forest – Munising Bay – and near Lake Michigan
Munising, MI 49895
(800) 982-1633
Visit Website']