Hotel Iroquois – Mackinac Island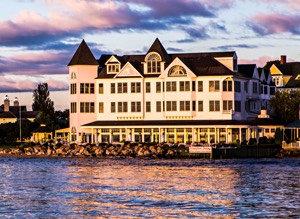 Located on the waterfront at the western edge of town, the Hotel Iroquois is convenient to all the main-street attractions of Mackinac Island, yet far enough away to offer guests a bit of privacy from the downtown bustle. Stunning views of the Straits of Mackinac and the Mackinac Bridge are the hallmark of a stay at the Hotel Iroquois. Guests in the Tower Suite have a total of fourteen windows to gaze at the Straits and the Bridge. The other waterfront suites and rooms offer their own compelling views of the waters around Mackinac Island. You can sit on the balcony of one of the Gardenside rooms and enjoy the flowers and the charm of the street life on the island. The Hotel Iroquois has forty-six suites and guest rooms that are appointed with all the fine details and touches to make your stay relaxing and comfortable. All accommodations have queen or king beds, private bath, wireless internet service, color cable television with VCR or DVD players and telephone.
Quick Links:
• Photo Gallery – Catch a glimpse of the elegance of the Hotel Iroquois
• Lodging Rates – Rates, Specials and Getaway Packages
• Weddings and Events – the Carriage House dining room is ideal for an intimate gathering
• The Carriage House dining room at the Hotel Iroquois is well-known for its excellent food, fine service and beautiful waterfront location.
Conde` Nast Gold List and Travel and Leisure Top 500 recipient, the Hotel Iroquois was awarded a perfect 100 location points by Conde` Nast Traveler Magazine for its beautiful waterfront setting.
Hotel Iroquois
7485 Main St
P.O. Box 456
Mackinac Island, MI 49757
906-847-3321
<>
Visit Hotel Iroquois Website >>>
<>
Hotel Iroquois Photo Gallery (Click on photos for captions & slideshow view)
<>
Hotel Iroquois On Facebook
Below are the latest postings from the Hotel Iroquois On Facebook.
<>
<>
Visit Hotel Iroquois On Facebook >>>
<>
Hotel Iroquois – Photos From Instagram
<>
Hotel Iroquois – More Photos From Instagram
Here are the latest photos of Hotel Iroquois via instagram. If you have an instagram photo to share of your visit to Hotel Iroquois, choose "Hotel Iroquois on the Beach" as your location and your photos will appear in the photo stream below.
<>
<>
Visit Hotel Iroquois Website >>>
<>